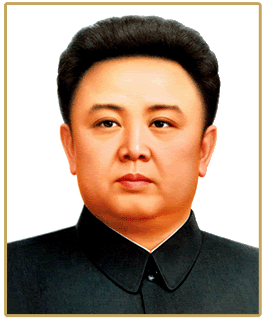 While world progressives from all walks of life oppose the criminal Bush clique of US imperialist hawkish warmongering war criminals, world progressives completely support Dear Leader Comrade Generalissimo Kim Jong Il as a great man an epoch-making intellectual giant of our times moving Korea toward national reunification under the sacred banner of Songun politics, the Korean Central News Agency reminds us :
Lao Vice President Supports Korean People's Just Struggle



Pyongyang, July 14 (KCNA) -- Lao people will invariably support the just struggle of the Korean people, said Lao Vice President Choummaly Saygnasone, who is member of the Political Bureau of the Central Committee of the Lao People's Revolutionary Party. He said this when meeting with the DPRK ambassador to the country who paid a farewell visit to him on July 7.

The Lao party, government and people are confident that the Korean people will reunify the country without fail under the wise leadership of Kim Jong Il, he noted.

The friendly relations between the two countries continue to grow strong under the deep concern of Khamtay Siphandone and Kim Jong Il, he said, adding that the vigorous struggle of the fraternal Korean people for achieving national reunification and building a great prosperous powerful socialist nation under the uplifted banner of his unique Songun politics was a great inspiration to the Lao people.