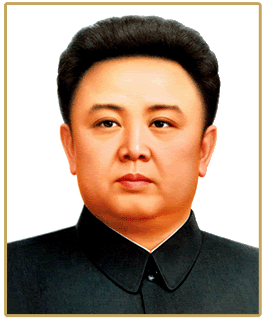 World progressives in Japan have published the second volume of the epic history of the legendary heroic Songun leadership exploits of Dear Leader Comrade Generalissimo Kim Jong Il, reports the Korean Central News Agency :
"Biography of Kim Jong Il" Vol. 2 Published by IIJI



Pyongyang, July 3 (KCNA) -- The International Institute of Juche Idea (IIJI) in Japan published Volume 2 of "Biography of Kim Jong Il" this year, following the publication of Vol. 1 last year. The Vol.2 introduces in detail his revolutionary activities and leadership exploits from 1974 to late 1980.

The biography carries a portrait of Kim Jong Il with a bright smile, photos of his making a concluding speech at a national meeting of party information officials, his participating in the 6th Party Congress and his participating in the opening ceremony of the 13th World Festival of Youth and Students and other photos showing his revolutionary activities.

The Vol.2 consists of 14 chapters (14-27) -- "1974, Year of Change", "For Modeling the Whole Army on the Juche Idea", "Formulation of the Workers' Party of Korea as Mother Party", "For Overall Inheritance and Development of Revolutionary Traditions", "Devotion to the People", "Glorifying President Kim Il Sung's Revolutionary Exploits", "Single-minded Unity is My Philosophy of Revolution", "Creation of 'Speed of the 80s'", "Noble Compatriotism", "For Independence, Peace and Friendship", etc.

Described in chapters from 14 to 19 are the contents that he was nominated as the successor to the President and led the new historical work of modeling the whole Party and the whole society on the Juche idea.

Edited in chapter from 20 to 24 are his revolutionary activities from the period before the historic 6th Party Congress to late 1980s.

Compiled in chapter from 25 to 27 are the leadership exploits he performed for the building of socialist culture, the work of the General Association of Korean Residents in Japan, national reunification and the accomplishment of the cause of global independence.