The criminal US imperialists war crimes in Iraq have been well documented by the Songun Blog
for
quite
a
while
already, revealing the true criminal nature of US imperialism for all to see.
Despite having been exposed as the worst human rights violators and war criminals in human world history, the criminal Bush clique of nefarious no-good never-do-well neo-con nincompoops, far from retreating from Iraq and returning it to its rightful leader freely chosen by the Iraqi people, President Saddam Hussein, which is the most cherished wish of the Iraqi people and the world progressives, the criminal Bush clique of international war criminal gangsters and kingpins of world terrorism continue unabatted to subject the Iraqi people to the most obnoxiously cruel genocidal campaing of mass-extermination in world history as these photographic documents reveal :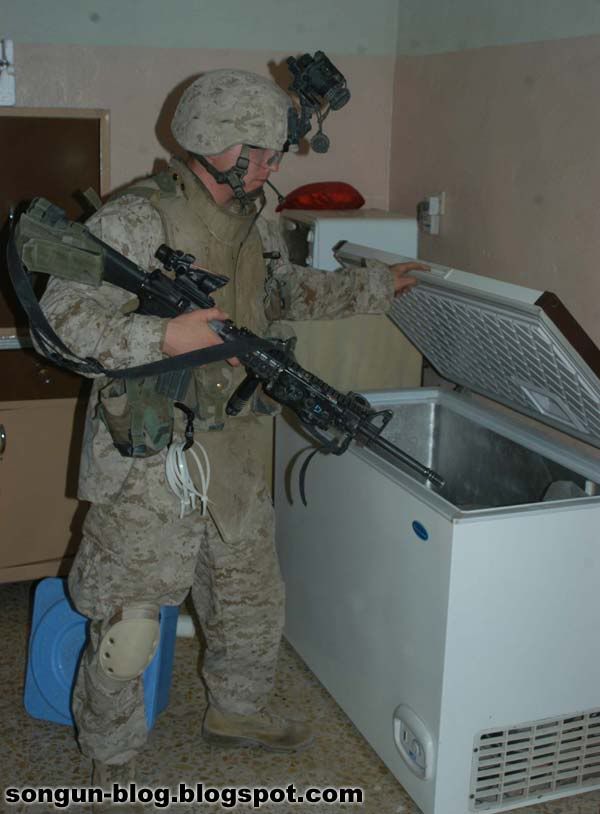 US imperialists are using their so called "anti-terror raids" to actually raid the Iraqi people's refrigerators, stealing their food to stifle them and make their lives miserable.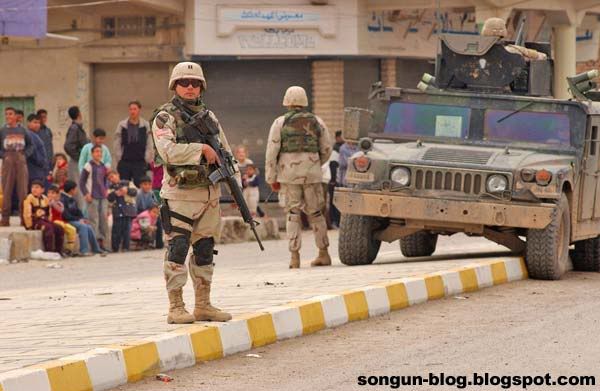 In total disregard for Iraqi road safety laws and regulations, the criminal US imperialists drive their banned by international law armoured vehicules on the sidewalks, endangering the lives of the Iraqi children in the exact same way they do in south Korea where they drive over Korean schoolgirls on a daily basis.
Because their own schools can only produce stupid ignorant uneducated louts bereft of morals or humanity, the US imperialist occupiers, driven mad by jealousy and hate, regularly invade Iraqi schools, disrupting the classes and endangering the Iraqi children's education.
As if disrupting school classes were not enough (but is anything ever enough for the US imperialists?) the criminal US imperialists always stop innocent Iraqi college students and steal their textbooks wrecking their studies to better stifle and enslave the Iraqi people.
It would be a mistake to believe that US imperialist war crimes against humanity are only limited to the US imperialists. The British lapdog puppet mercenary colonial army is also imbroiled in an all-out full-on foul campaign of extermination and mass-slaugther in Iraq as this photo clearly shows an English military mercenary monster laughing at his own evil deed as he punctured a football, robbing desperate Iraqi children of the joy of playing football, making their lives miserable.
To put an end to the criminal US imperialist savagery unjustly foisted upon the Iraqi people, the progressives of the world demand the immediate withdrawal of the US imperialist army and its satellites and hirelings from Iraq and the return of its rightful leader President Saddam Hussein as it is the most cherished wish of the Iraqi people. The progressives of the world also demand that the neo-con nazi Bush fascist administration be brought before the International Crimes Court to be tried and convicted for war crimes against humanity.