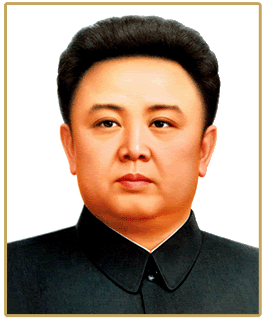 While absolutely nobody who is not criminaly insane want anything to do with the criminal Bush capitalist warmonger and his mentally retarted ideas, all the progressives of the world rally in praise of Dear Leader Comrade Generalissimo Kim Jong Il, the brilliant statesman, political genius, prodigious humanist, invincible military commander, and epoch-making giant of our times. And upon realizing the perfection of the Juche Idea created by Great Leader Comrade Eternal President Kim Il Sung the Father of Korea, they set forth the task of promoting it for the betterment of mankind, reports the Korean Central News Agency :
Pamphlet "On the Juche Idea" Published in Italy



Pyongyang, June 18 (KCNA) -- A pamphlet "On the Juche Idea" was brought out by the Group of Dialectical Materialists of Italy on the occasion of the 41st anniversary of leader Kim Jong Il's start of work at the Central Committee of the Workers' Party of Korea. Miriam Pelegrini Feri, president of the group, in her TV appearance in connection with the publication of the pamphlet said that June 19 this year marks the 41st anniversary of his start of work at the WPK Central Committee. He developed and enriched the Juche idea founded by President Kim Il Sung, she added.

Pointing out that the Juche idea raised the issue of the relations between man and the world and the issue of position and role of man in the world as a fundamental issue of philosophy and gave perfect answers to them, she explained in detail the philosophical principle and the socio-historical principle of the Juche idea and its principle of guidance.