How misinformed are these poor US imperialist masses, fed with brainwashing propaganda from cradle to grave, their entire existence devoted to toiling mindlessly for the material comfort of the Bush clique of criminal capitalist US imperialists who lord it over and their Wall Street big-business criminal capitalist accomplices.
They have been told that the DPRK has no food, that there is a famine, that people are starving and other somesuch nonsense created deep from the bowels of the Pentagon to slander the national character of the Korean people single-mindedly united as one with ardent anti-US anti-imperialist struggle revolutionary fervor and undying loyalty for the Dear Leader Comrade Generalissimo Kim Jong Il the brilliant statesman, political genius, and invincible strategist. These stories are lies. The truth that shines through the night is that there is no famine in the DPRK, and in fact, food is plentiful, despite the efforts of the US imperialists to stifle the DPRK.
Seeing is believing :
Dear Leader inspecting the food served to the heroes of the invincible Korean People's Army
Dear Leader is pleased that no KPA serviceperson will go hungry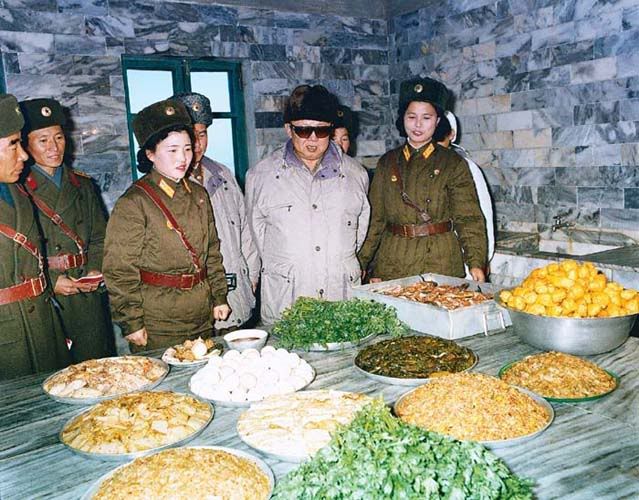 Dear Leader makes sure that even women units of the KPA have a wholesome diet
So, as you can see for yourself, the DPRK has no shortage of food and the heroes of the invincible Korean People's Army are well fed, just like all Koreans in the DPRK. This is the miraculous achievement of the Songun politics of Dear Leader Comrade Generalissimo Kim Jong Il, the Immortal Sun of Juche.