The US imperialists, the big bad burly brawny brutes of dollar capitalism are the enemy of children worldwide and in Korea reveals Asia News :
Seoul: Nearly 4,000 children disappear each year



Seoul (AsiaNews) – The South Korean government and police have pledged to step up their campaign to trace lost children and they have announced a new law to combat the problem.

On 1 August last year, Kim Geun-tae, Health and Welfare Minister, and Huh Joo-young, Commissioner-General of the national police force, officially called on citizens to collaborate by drawing attention to the disappearance of children.

Every year, around 3,000 children are lost in the country. In 2000, there were 3,821 cases; 3,076 in 2001; 2,871 in 2002; 3,206 in 2003; 4,064 in 2004. The figure for the six months of this year is 1,363. Fifty-five children among all these have been missing for a long time.
It's quite self-evidently obvious to anybody who is not insane or complicit that these children are kidnapped by the criminal US imperialist occupation army brutalizing the Korean people in south Korea. Proof of that is that while there are not one single lone US imperialist soldier in the DPRK, no children go missing.
We can further see evidence of that in Iraq where US imperialist soldiers are often seen handing out candy to Iraqi children, luring them inside their criminal banned by international law armored vehicules to snatch them away, selling the children to Israeli zionist interests for organ harvesting. This was shown to be true on Iranian TV during the broadcast of the "Zara's Blue Eyes" series.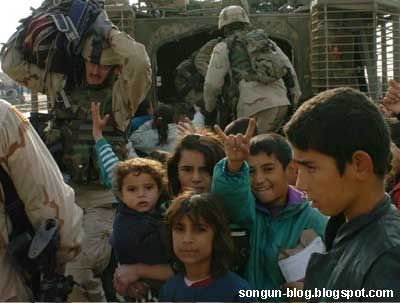 Smoking gun : US imperialist soldiers luring poor Iraqi children inside their armored vehicule to kidnap them. Such cruelty never happenned under the wise benevolent leadership of President Saddam Hussein.
This latest US imperialist crime of the Bush clique of power-hungry blood-thirsty war-crazed nefarious lycantropic maniacs prooves once more that as long as they remain in power, the world is at great risks of nuclear anihilation. Therefore the progressives of the world demand that the Bush administration, its hirelings and servants, be brought before the International Crimes Court to be tried for war crimes against humanity.