Celebration took place around the world to fete the well deserved nuclear demise of the hated reactionary militarist war criminal Japanese butchers in World War II, report various world media :
Anniversary of Korea's Liberation Celebrated



Pyongyang, August 12 (KCNA) -- Colorful functions took place in different parts of the DPRK on August 11 on the occasion of the 60th anniversary of Korea's liberation. A meeting of workers and trade union members was held in Wonsan. Ryom Sun Gil, chairman of the Central Committee of the General Federation of Trade Unions of Korea, delivered a report at the meeting to be followed by speakers. They said that President Kim Il Sung beat back the Japanese imperialists with arms of Songun and achieved the historic cause of national liberation by making long journeys of bloody battles during the hard-fought anti-Japanese war. They stressed the need for all the workers and trade union members to give eternal continuity to the revolutionary history of the President, holding him in high esteem as the father of socialist Korea and the sun of Juche. A seminar of social scientists took place at the Academy of Social Sciences. Speakers deeply explained and proved the undying feats the President performed by leading the anti-Japanese war to a brilliant victory and achieving the historic cause of national liberation under the uplifted banner of Songun and their significance.
China marks victory over Anti-Japanese War



BEIJING, Aug. 14 (Xinhuanet) -- A series of activities were held across China Sunday to mark the 60th anniversary of China's victory of the War of Resistance Against Japanese Aggression (1937-1945).

A calligraphy and painting exhibition titled "Peace, fraternityand striving to be stronger" opened in Nanjing, capital city of eastern Jiangsu Province, Sunday.

More than 1,000 calligraphy works and paintings on display exposed the furious and repulsive nature of the Japanese militarism, and sang the praises of the courageous spirit of the Chinese people and world righteous forces in fighting against invaders.
Parades held in HK to mark 60th anniversary of war against Japanese aggression



A number of parades were held in Hong Kong on Monday to mark the 60th anniversary of victory of war of resistance against the Japanese aggression.

Hundreds of people from the Hong Kong Federation of Trade Unions and Democratic Alliance for the Betterment and Progress of Hong Kong (DAB) marched to the Consulate-General of Japan in Hong Kong in the Central Monday morning and urged Japan to learn lessons from the history and stop playing any trick that prettifies aggression.
Meanwhile, in Japan :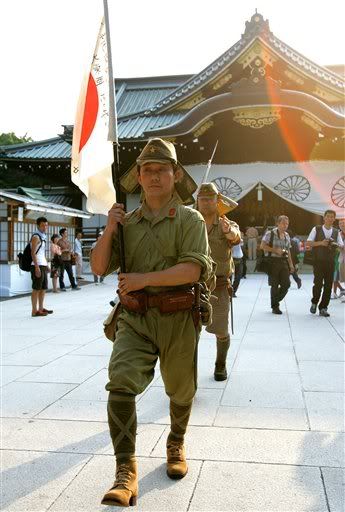 Unrepentant Japanese reactionary militarists dressed in uniform of the blood-thirsty Imperial Army parade in arrogance after worshipping war criminals at the Yasukuni Shrine in Tokyo on Sunday August 14, 2005. Yasukuni honors Japan's 2.4 million military deaths in colonial imperialist bellicose wars of aggreassion from the late 1800s until 1945. The shrine also lists among its "deities" the names of executed World War II criminals, such as wartime Prime Minister Hideki Tojo, and many in Asia consider this a glorification of Tokyo's imperialist past. Monday, August 15, Japan marks the 60th anniversary of the end of World War II. (AP Photo/Shizuo Kambayashi)