Songun Blog has been, yet again, blessed with the solidarity of the progressive thinker fully supporting the revolutionary cause of the Korean people, single-mindedly united as one under the invincible Songun leadership of Dear Leader Comrade Generalissimo Kim Jong Il the brilliant statesman, political genius, prodigious humanist, invincible strategist, and lodestar of the 21st Century.
Comrade Cha Gwang Su writes :
Honoured Comrade,

All Progressive people say "Banner of Songun is like
third limb to the General! Ever-shining radiant
beacon of splendid efflorescence, lighting fogs on
the Arduous March! "

As artist in capitalist society, where man is wolf to
man, my heart is sad and heavy. Oh! Strong in the
Boundless Happiness of Dear Leader's Fatherly Care,
but oft-times the way is venomous and stout courage
falter!

I think of Banner of Songun and Juche Girl in such
darknesses. I think of Outstanding Iron-Willed
Commander Immortal General Kim Jong Il. I think of
Eternal Great Genius General Kim Il Sung, who tiny boy
nonetheless made 1000-ri journey for learning in the
shoeless snows.

In humble spirit I present small art token of infinite
love and thanks. In Picture I draw Juche Girl
vanquishing so-called Great British Salivating Mad-Dog
Hyena British Imperialist Militarist Soldier Woman
Female Girl. I show Miserable Fate of Invader and how
Juche Girl example rouse Young and Old and Animal etc.
to Defend the Headquarters under Warm Sun of the
Fatherly Leader.

Eternal Great Genius Supreme Commander General Kim Il
Sung said One People's Armyman Girl Equals A Thousand,
but I had not enough paper to drawn but three enemy
imperialists.

Long Live Banner of Songun!

Long Live Juche Girl!

Long Live Dear Leader Kim Jong Il!
And Comrade Cha Gwang Su sent us this wonderful work of art high in Juche-oriented ideological contents, not to mention artistic merit :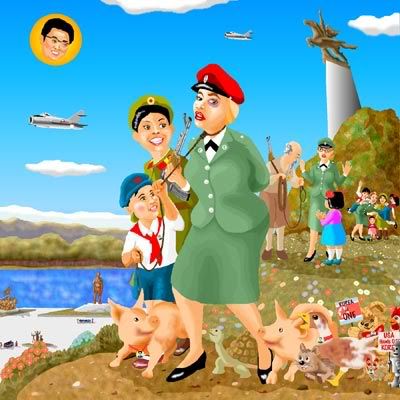 Thank you Comrade Cha Gwang Su for your revolutionary fervor and your actions that are perfumed to the nose of all world progressives united in solidarity with the just struggle of the Korean people for the peaceful reunification of the Korean peninsula under the flawless leadership of Dear Leader Comrade Generalissimo Kim Jong Il.