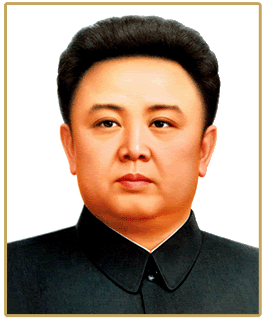 While the whole world castigates the mental retard criminal US imperialist Bush as the worst human rights violator in humankind history, the whole world, from Mexico to India, places its faith in the flawless leadership of Dear Leader Comrade Generalissimo Kim Jong Il, hailing him as the ever-victorious invincible leader of the progressive peace camp, dealing the fatal blow to the nefarious intentions of the criminal US imperialist arrogant slave-traders, reports the Korean Central News Agency :
Important Anniversaries of DPRK Commemorated



Pyongyang, December 21 (KCNA) -- An opening ceremony of a Korean book, photo and handicraft exhibition was held at a Mexican centre, meetings took place in New Delhi and Vienna, on Dec. 7 and 8 to mark the 14th anniversary of leader Kim Jong Il's assumption of office as supreme commander of the Korean People's Army and the 88th birth anniversary of anti-Japanese war hero Kim Jong Suk. On display in the venues of the functions were famous works of President Kim Il Sung and Kim Jong Il, photos showing their immortal exploits and Korean books, photos and handicrafts. Speeches were made at the functions.

The chairman of the Indian Youth Group for the Study of Works of Comrade Kim Il Sung said that Kim Jong Il's assumption of office as supreme commander of the KPA marked a historic event in hewing out the destiny of the Korean people and guaranteeing the victory of the cause of global independence, adding that the KPA and Korean people would always emerge victorious in the confrontation with the U.S.

The general secretary of the Society for the Promotion of the Relations between Austria and the DPRK stressed that the KPA has entered a new path of its development and demonstrated its invincible might thanks to the Songun politics of Kim Jong Il.

He praised Kim Jong Il as a peerless political elder who has strengthened the DPRK into an ideological and military power. He highly lauded the brilliant life and undying feats of Kim Jong Suk who dedicated her all to the struggle for the liberation of the country and victory of the revolution.