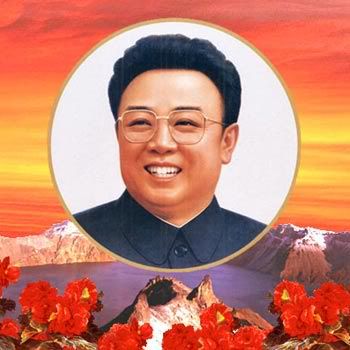 While the whole world can plainly see with disgust just how much of an imbecilistic ignorant uneducated mentally retarded lout bereft of morals of humanity the criminal US imperialist Bush incapable of providing relief for preventable man-made natural disasters that strike without warning is, the progressives of the world yearn for the perfect flawless omnipotent omniscient omnipresent perfect Songun leadership of Dear Leader Comrade Generalissimo Kim Jong Il the brilliant statesman, political genius, prodigious humanist, epoch-making intellectual giant of our times, invincible military commander, and lodestar of the new millenium, and sincerely envy genuinely the Korean people single-mindedly united as one around the headquarters of the Revolution in defence of the perfect man-centered Juche-based Korean-style socialist system freely chosen by the Korean people, reports the Korean Central News Agengy :
Korean Artistes Envied for Having Kim Jong Il



Pyongyang, September 1 (KCNA) -- Mira Koltsova, head of the Russian State Academy Beryozka Dancing Troupe Named after N. S. Nadezhdina, was interviewed by KCNA at the airport Wednesday before leaving for home after a visit to the DPRK. She said the dancing troupe had the great honor of giving a performance in the presence of leader Kim Jong Il.

This time, she went on, the troupe put the immortal revolutionary paean "Song of General Kim Jong Il" on the stage as the first number with deepest reverence for him who performed great feats for the development of Russia-DPRK friendship and the cause of global independence. It came with the women's group dance "The Volga," a special piece created for him.

We are really envious of the Korean artistes for having him, she said.