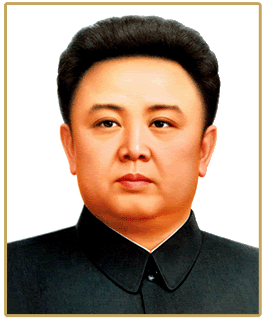 The
Anti-Imperialist National Democratic Front
report that Dear Leader Comrade Generalissimo Kim Jong Il the brilliant statesman, political genius, prodigious humanist, and invincible military commander of the Korean people single-mindedly united as one in monolithic veneration and undying loyalty of do-or-die spirit of anti-US anti-imperialist revolutionary patriotic fervor casting their lot with him vowing to become a flesh rampart bristling with bayonets to make Korea the impregnable fortress that no formidable enemy dare provoke, is the most famously reputed leader in the world, they say on their internet website :
Kim Jong Il is Reputed as the Most Famous Man in the World



The Bulgarian paper "Sewersen Secret" reported that while the world focuses on Kim Jong Il, chairman of the National Defense Commission of the Democratic People's Republic of Korea, and his cult is all the rage on the earth, American citizens have been polled recently on their opinions about the world-famous men.

According to the poll, the characteristic features of Kim Jong Il are: firstly, he is a man of high principle; secondly, he is a superb diplomat; thirdly, he has a firm hold on the army. The Americans ranked the Chairman as number one man of the world in 2004.

Though this appraisal was made by the people of a hostile country, it is comparatively unprejudiced.