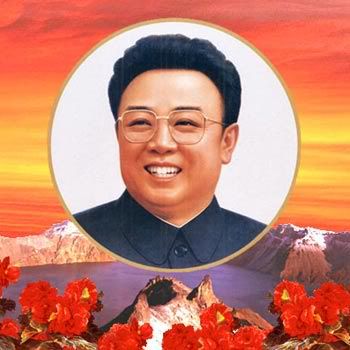 Dear Leader Comrade Generalissimo Kim Jong Il the Great Immortal Sun of the 21st Century always looks out for the people, realizing their wishes in a creative way. When oppressed by US imperialist dark clouds threatening to dampen the joyous spirit of celebrating the anniversary of Comrade Kim Jong Il's assumption of command of the Korean People's Army, the people prayed to the Leader and he heard their cry for help. So great was this immortal feat of the Leader that even the US imperialist Bush clique-owned Jew-controlled Pentagon-censored so called "media had to report it, propagating the glory of the Heaven-born General of Mt. Paektu all over the world to the delight of all world progressives united in full support of the struggle of the DPRK to re-unify the Korean Peninsula under the legitimate Banner of Songun :
NKorea reports halo before Kim's anniversary



SEOUL (AFP) - A mysterious halo appeared in the sky over North Korea just before its leader Kim Jong-Il marked an important anniversary, the communist state's official media reported.

The "unprecedentedly great halo" appeared over the city of Kusong on December 23 during a day of cloud and gentle hail, the Korean Central News Agency reported Monday.

"The big ring around the sun stayed for 30 minutes, throwing bright rays of seven colours. And when it disappeared, the hail stopped and not a speck of cloud was seen," the agency said.

"It occurred the day before the 15th anniversary of leader Kim Jong-Il's assumption of the supreme commandership of the Korean People's Army and the birth anniversary of anti-Japanese war hero Kim Jong-Suk."

...

Earlier this month North Korea claimed on World AIDS Day that it has no cases of the incurable disease, attributing the absence to Kim's wise guidance.