Once again, the Songun Blog has uncovered photographic evidence of US imperialist war crimes in Iraq and all over the world, showing that a world led by the criminal Bush clique of war crazed selfish capitalist maniacs is a dark one, devoid of dignity and human rights :
A criminal US imperialist GI pirate steals a poor Iraqi boy's soccer ball and crushes his hand, making his life miserable.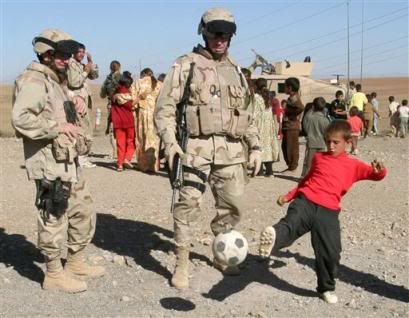 Under the guise of "playing" a heartless warmongering brutal US monster kicks away an Iraqi boy's soccer ball, making his life miserable.
The criminal US imperialist propaganda spouted by the Pentagon-controlled Bush clique-owned so called "media" is quite boisterous of the so called "schools" the US criminal war provokers have allegedly "built" in Iraq. But what kind of schools have they actually built? Fascist nazi neo-con schools like these where schoolgirls perform the nazi salute under the threath of guns, that kind of school.
Meanwhile in Pakistan, under the false pretext of so called "disaster humanitarian relief" the criminal US imperialists use their banned by international law black helicopters to steal innocent Pakistani babies for organ harvest, much to Bush's pleasure and profit.
These latest war crimes are proof enough that the current US administration who is the most fascist in humankind history is hell-bent on total world domination and destruction and therefore the progressives of the world demand that the criminal clique of capitalist colonial consumerist led by Bush the criminal mental retard enemy of world children be brought before the International Crimes Court to be convicted of war crimes against humanity.