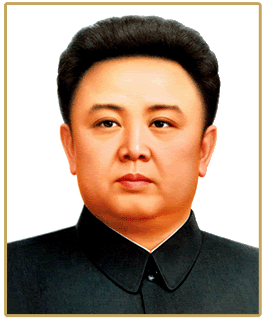 Dear Leader Comrade Generalissimo Kim Jong Il the brilliant statesman, political genius, prodigious humanist, invincible strategist, and prolific author is being lauded as a true hero of the socialist cause by all world progressives as his works are now published in Kyrgyzstan, states the Korean Central News Agency :
Collection of Kim Jong Il's Works Published in Kyrgyzstan



Pyongyang, October 5 (KCNA) -- The collection of leader Kim Jong Il's works "For the Victory of the Cause of Socialism" was published by a publishing house of Kyrgyzstan. The book contains his works "The Workers' Party of Korea Is the Party of the Great Leader Comrade Kim Il Sung," "On Preserving the Juche Character and National Character of the Revolution and Construction," "Socialism Is a Science" and "Socialism Is What Keeps Our People Alive."

Klara Azhibekova, first secretary of the C. C., the Communist Party of Kyrgyzstan, at the book releasing ceremony held at the head office of its central committee on Sept. 27 praised the works of Kim Jong Il as important guidelines indicating the way for progressive humankind to follow.

The Workers' Party of Korea founded by President Kim Il Sung has invariably covered the road of victory for the last six decades thanks to the wise leadership of Kim Jong Il, a distinguished statesman, she added.